Updated 16 June 2021

What is Phuket Sandbox Model ?
With the onset of Covid 19, Thailand closed door for inbound tourism. However now Thailand has announced a phased opening of inbound tourism into the country, starting with Phuket as a project. Phuket will be a 'sealed' destination that will invite fully vaccinated travellers to enter Phuket and enjoy holidays without a quarantine requirement. Prior to the opening from 1 July 2021 onwards, at least 70% of Phuket's local population would be fully vaccinated. Hence Thailand will experiment with opening of Tourism with Phuket, isolating with from rest of the country to minimise risks. This is called the Phuket Sandbox Model.
Will Phuket be safe tourist destination ?
Phuket is planning to emerge as one of the safest tourist destination when it opens 1 July 2021. Over 70% of the islands local population would be fully vaccinated prior to opening up. Only fully vaccinated travellers can freely move around in Phuket, without quarantine requirements. Not only foreign but even domestic Thai travellers need to be fully vaccinated to enter Phuket and move around freely without quarantine requirements.
Hence both tourists and locals , being fully vaccinated , would be the least of risk to each other.
Which vaccines are on 'approved' list by Thailand
?
The official information as per Tourism Authority of Thailand website says all vaccines registered with Thailand's Ministry of Public Health (MoPH) or those approved by WHO would be considered eligible.
What about Children Policy, does Thailand require Children to be vaccinated too ?
There are two segments covering children and the policy is as follows
Under 6 Years- Children under 6 years and not yet vaccinated can travel with Parents or Guardians . They would be permitted entry and also do not require upon arrival to Phuket. However if the parents or guardians test positive upon arrival or during the stay in Phuket, then accompanying children would need to undergo 14 days quarantine along with parent or guardians
6 Years - 18 Years - Unvaccinated Children in this age bracket can travel with fully vaccinated parents or guardians but would be tested for Covid-19 upon arrival. Costs to be borne by the travellers. Should the parents or guardians test positive for COVID-19, the children are to be placed in isolation for 14 days as well.
Is there a minimum duration of stay prescribed ?
Absolutely not. Travellers can choose to stay for any duration. If one wishes to travel to places beyond Phuket then it is mandatory to stay for first 14 nights in Phuket and get tested negative for Covid-19, before being permitted to travel to other eligible provinces.
If you are coming for say 5 nights, you could come to Phuket, enjoy your holiday and go back to your country.
What is the procedure to get approval to travel to Thailand? What documents are needed ? Does Visa on Arrival Work?
There is no Visa on Arrival for Thailand as of now for many countries. Even for those countries where visa is exempted a Certificate of Entry must be obtained in prior. The following are required for eligible entry to Phuket
A vaccine certificate
COVID-19 health insurance policy with a minimum coverage of US$100,000 per traveller
Pre-booked confirmation of 14 nights booking in a SHA Plus-certified accommodation
RT-PCR Negative Test Result which is not more than 72 hours older than prior to departure

If the destination is Phuket, the stay can be less than 14 nights but travellers need to leave Phuket prior to stay permit expiring
A Certificate of Entry (COE) issued by the Royal Thai Embassy or Consulate, by applying on the portal https://coethailand.mfa.go.th/
What is the procedure at Arrival ? Will I be tested ?
Yes upon arrival, all travellers aged 6 and above would be tested for Covid-19 at their own expense. Further the travellers need to download and activate the ThailandPlus App to enable tracking. After testing at Airport, you need not wait for the results, but can proceed to check-in at your Hotel and can wait in your room till the test result is out and declares you have tested negative for Covid-19. The test results for are expected to be out in few hours and may require you to be indoors for few hours or until the results are out.
Do I get tested again during the course of stay ?
Phuket is aspiring to be the safest tourist destination and hence the protocol does require testing again on Day 6-7 of your arrival as per TAT website.
Further, testing is again required on Day 12- 13. If you wish to travel beyond Phuket within Thailand, you need to test negative in all tests and stay beyond 14 Nights in Phuket and then you may visit other eligible provinces in Thailand.
Upon arrival or during the stay do I undergo a Rapid Antigen Test or RT-PCR Test ? What is the cost of these tests in Thailand?
We are still seeking clarity on this, but it seems that both Rapid Antigen Test and RT-PCR Test are acceptable. Rapid Antigen Tests are cheaper and may cost in the range of THB 500- THB 1500 . RT-PCR tests may cost in the range of THB 2500 - THB 5000 per test.
These tests can be got done at hospitals, clinic or private labs in Phuket during the stay.
Do I need to wear Mask while in Phuket ?
Yes, you need to weak a mask at all public places and if seated in vehicle with other people.
What happens if I get tested Positive for Covid 19 ?
Should you test positive for Covid 19 upon arrival or on further testing ahead or if you get tested suspecting Covid symptoms, you would need to be quarantined and undergo treatment at your own expense. If any one traveller in a group tests positive, then all travellers must undergo tests to confirm status.
Can I stay in Private Villas , Bungalows or Residences ?
Your stay needs to be pre-booked and only at SHA Plus approved accommodations. These are invariably Hotels & Resorts and so far private villas and residences are not eligible for this. So you need to pre-book your stay at Hotel or Resort which is SHA+ certified.
Do I need to stay at one resort during all of my stay or can I spilt stay between hotels ?
You can split stay between hotels and resorts for your holiday. However all accommodation must be pre-booked prior to arrival.
What is SHA Plus Certification ?


SHA' certifies businesses that meet the basic standards of hygiene and health safety for their products and services in accordance with the Thailand Authorities requirements to mitigate risk of Covid-19.
'SHA Plus' is a an additional certification for companies/individuals who have received the SHA certificate & 70% of their workforce has been vaccinated.

Only SHA Plus certified businesses Hotels, Travel Agents and Attractions are eligible to conduct business to cater to tourists. The Ministry of Tourism awards a certificate to eligible business and declares them SHA Plus Certified. This is how the SHA Plus Certification looks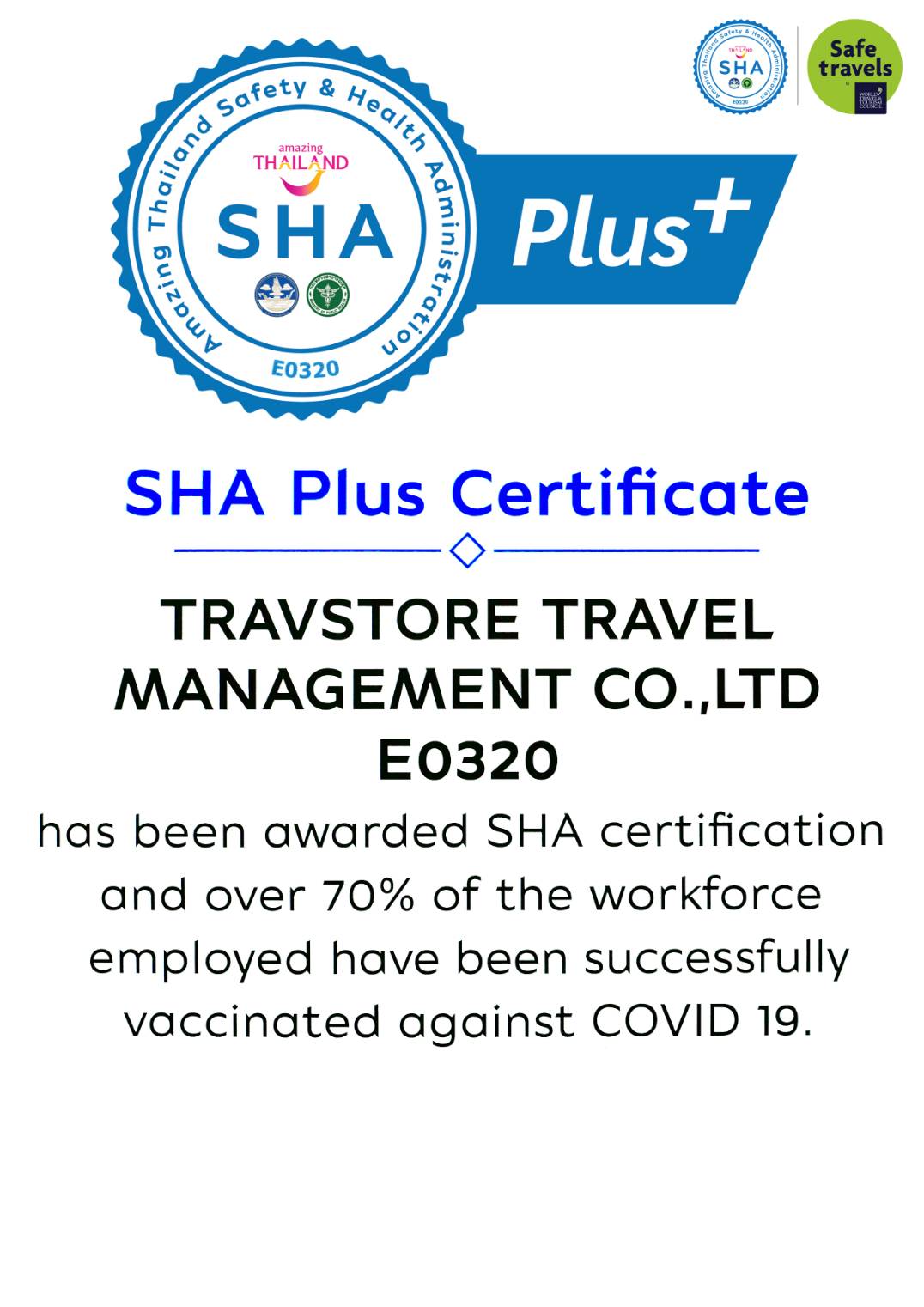 Can I travel freely across Phuket or are their restricted zones ?
You are free to travel anywhere within Phuket, however you must strictly follow the DMHTTA precautions: D – Distancing, M – Mask wearing, H – Hand washing, T – Temperature check, T – Testing for COVID-19, and A – contact tracing application
Can I travel anywhere in Thailand after spending 14 nights in Phuket ?
You can travel to other parts of Thailand after spending 14 nights in Phuket and testing negative for Covid. However this will be guided by policies of each province and you can only travel to eligible provinces at that time.
Can I take a tour to Phi Phi Island or the James Bond Island or other such tours around Phuket ?
You can take a day trip or cruise to nearby islands, however you will not be permitted to go out of Phuket jurisdiction. Since Phi Phi Island and James Bond Island are not part of Phuket province, you cannot travel to these islands. We expect an approval allowing tours to these Islands after one has been tested negative on the Day 5 or Day 7 test. However this is not confirmed yet.
However you may freely take a tour of the Coral Island or the Racha Island, as these are part of the Phuket Province.
Which Countries are eligible for travel to Phuket under Phuket Sandbox ?
TAT mentions that so far only low and medium risk countries with respect to Covid-19, are on approved list and residents from High Risk Countries are not permitted to travel to Phuket. We are told that currently residents from India, Pakistan, Bangladesh and Nepal not permitted entry and these countries are in the red list .The full list of countries under low, medium and high risk is not yet out and would be soon published.
Is there and Official Page or link from Thailand Tourism that I can follow ?
Yes, Tourism Authority of Thailand (TAT) regularly updates and publishes official information on its website - https://www.tatnews.org/ and you can follow this link - https://www.tatnews.org/2021/06/initial-information-phuket-sandbox/
Updated 16 June 2021